Northern WV Center for Independent Living
The Northern West Virginia Center for Independent Living is an advocacy resource center for persons with disabilities and the communities in which they live, not a social service agency. What's the difference? We don't do for people; we do a lot with people. We want our consumer to be independent, not dependent on us for their independence. We do all that is possible to ensure that consumers have the skills and information they need to make informed choices and assist communities to better meet the needs of their citizens with disabilities.
Current Events: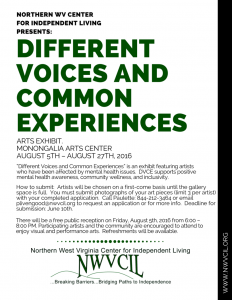 "Different Voices and Common Experiences" is an exhibit featuring artists who have been affected by mental health issues. DVCE supports positive mental health awareness, community wellness, and inclusivity.
How to submit: Artists will be chosen on a first-come basis until the gallery space is full. You must submit photographs of your art pieces (limit 3 per artist) with your completed application. Call Paulette: 844-212-3464 or email plivengood@nwvcil.org to request an application or for more info. Deadline for submission: June 10th.
---
Morgantown Office
601-603 East Brockway,
Suite A & B
Morgantown, WV 26501
Voice:      304-296-6091
Toll-free:  844-212-3464
Fax:         304-292-5217
Elkins Office
109 Randolph Ave.,
Elkins WV 26241Voice/TTY:  304-636-0143
Toll-free:      866-262-2875
Fax:             304-636-6508